Dr. Camille Neagu completed her undergraduate work at the University of California Riverside, where she graduated with a Bachelor of Science degree in Biological Sciences and a Philosophy minor.
She received her dental degree from Loma Linda University in 1997, where she graduated among the top of her class. After graduating dental school, Dr. Neagu practiced general dentistry in Los Angeles, California. However, her love for orthodontics influenced her to pursue post-graduate training at Loma Linda, where she was awarded a specialty Master of Science degree in Orthodontics.
She has been practicing as an orthodontist in Los Angeles, California since she completed her residency in 2000. Dr. Neagu is an active member of the American Association of Orthodontists, Pacific Coast Society of Orthodontists, American Dental Association, California Dental Association, and the Los Angeles Dental Society.
She donates her time with certain charitable organizations where she provides orthodontic treatment to underprivileged kids.
No More Messy Impressions!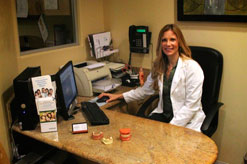 In our quest to always be at the forefront of Embrace Orthodontics, we now have a new technology in our office that will allow us to take a series of photos of your teeth using a specialized intraoral camera. The system is called iTero® and has been used in general dentistry for quite some time to manufacture crowns for fractured or decayed teeth.
The system has been redesigned specifically for Invisalign® to help patients get the needed impressions without gagging and having a goopy mess in your mouth!
The images of your teeth and gums are then immediately uploaded to a computer that will allow us to send your teeth images directly to Invisalign. We are one of three offices in the Los Angeles area with this new technology.
The benefits to you are amazing. No more goop in your mouth when getting your "impressions" or "molds" for Invisalign.
Another benefit is that with this technology, the intraoral camera is so accurate, that when you finally receive your aligners, they will fit perfectly and move your teeth more efficiently and effectively.
And finally, because the pictures of your teeth and gums are immediately uploaded to Invisalign, Dr. Camille Neagu gets to work on your customized treatment plan within 24 hours. This speeds up the entire treatment planning and ultimate manufacturing of your aligners. This means you get your aligners sooner (in two to three weeks versus the normal four to six weeks)!
If you have questions about this new technology, or would like to schedule a complimentary consultation to learn more about Invisalign, braces, retainers, or how Embrace Orthodontics can benefit you and your family, feel free to call our office at 213-927-2030.